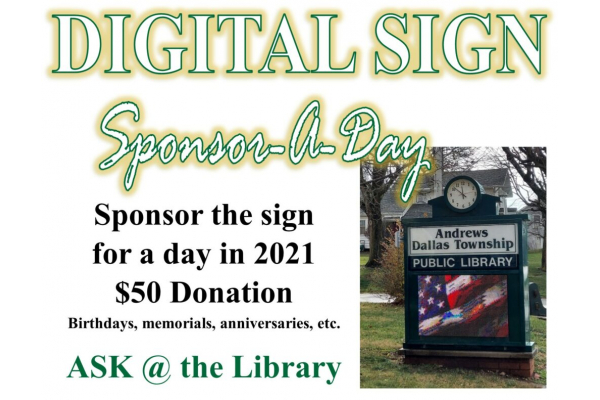 CALL AHEAD/CURBSIDE PICKUP ALWAYS AVAILABLE!
Call to let us know what you'd like to checkout, or let us select something for you!
Call when you get to the library, and we'll bring the items to your vehicle.

CURBSIDE DOCUMENT SERVICE, TOO!
Need something printed, copied, or fax? We can help while you remain in your vehicle.
To use the above services, call 260-786-3574 or email andrewsdirector@gmail.com
The Andrews-Dallas Township Public Library is closed on the following holidays:
New Year's Day
Good Friday
Memorial Day
Independence Day
Labor Day
Thanksgiving Day
Christmas Eve Day
Christmas Day
New Year's Eve Day